Evening ladies! Did you all join in with the #bbloggers chat on Twitter tonight? It was a fabulous idea of Make Up Savvy's, it got everyone talking and I thoroughly enjoyed it! It even got to the no.1 trending topic in the UK at one point! Wow!
Sooo….here is what I've been up to this week…
obviously I had to rush out and try the new Jammie Dodgers!
chocolate got a thumbs up from me, toffee didn't, Spencer liked toffee but not chocolate so that worked out well!
I baked chocolate brownies 🙂
we had a free crate of wine for switching gas & electricity supplies through uswitch, it finally arrived!
over flowing wine rack – amazing!
I've created life! Everyone is telling me a child could grow sunflowers, but I'm still proud!
Emma hadn't ever tried Krispy Kreme, I quite happily helped her out by taking her to the new coffee shop in Cardiff! I had one for then, and one for later (one for Spencer too!)
had to be done!
my friend put a load of old photos on facebook! I've changed so much! I'm the blonde in the middle!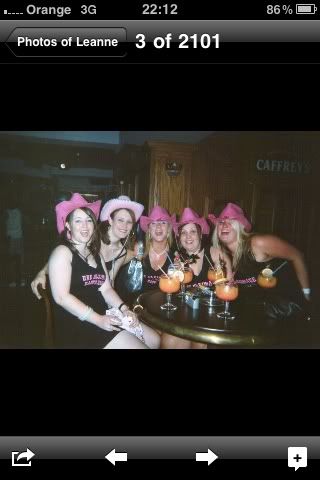 Magaluf! Brunette this time! On the left (I'm on Spencer's laptop and it will not display photos from facebook, hence the iphone screen shot!