Spencer's brother who lives in Reading came home this weekend with his partner. We went to The Carpenters Arms on Saturday night for a family meal. I'd never been to The Carpenters before and was very excited to try it out, I love the fact that all of their food is sourced locally. I went for the Cajun Chicken with Sauté potatoes followed by a lemon cheesecake and chocolate ice cream – amazing! I did get a little jealous when I saw Spencer's triple cooked chips!
I never really know what to wear when going out for meals, usually I wear a dress and leggings for room! I wasn't planning on eating much at this meal as I went to Red Hot Buffet World on the Friday and ate my entire body weight in food, as a result I decided to wear jeans.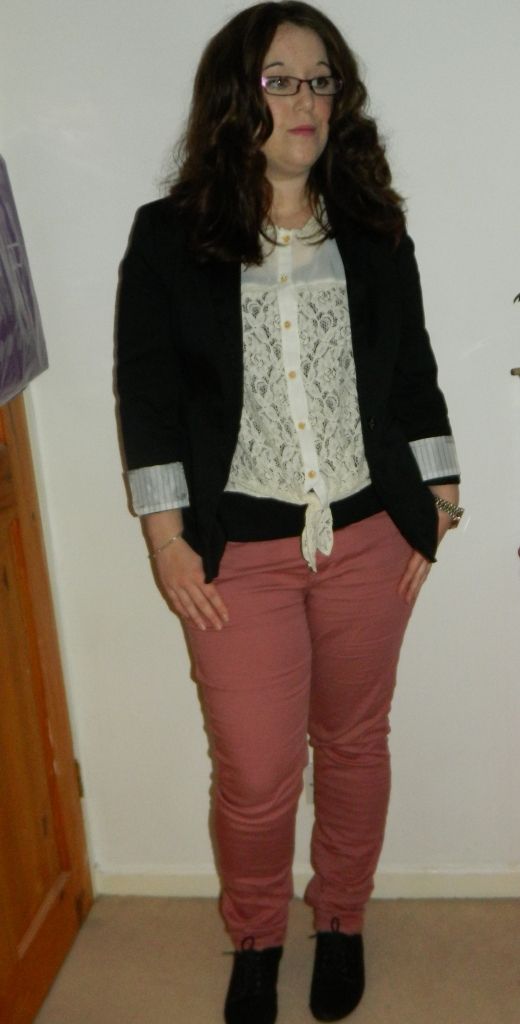 Blazer – Peacocks
Lace Blouse – Primark
Jeans – New Look
Brogues – Peacocks
I love this blouse and am still quite amazed that I managed to pick it up in Primark, I think the buttons make it look a lot more expensive than it was.
I also curled my hair using the velcro rollers that I picked up in Primark recently (haul post here). I love how well they worked! I put them in when my hair was damp and left them in for a while before blow drying my hair with them still in. The result is great and they only cost £1! Bargain. I think I will buy another packet though as my hair is so thick, underneath is still straight.
What type of clothes do you go for when eating out? Have you tried the Primark rollers?