Lip Booms are a result of a collaboration between MUA and Alexandra Burke. They are a 4 in 1 product with a lipstick on one end and a highlighting gloss on the other.
You can use the lipstick alone, the highlighter alone, the lipstick with a covering of highlighter or the lipstick with the highlighter in the centre of your lips to create a fuller look.
Lipstick alone
Lipstick with a covering of highlighter
Highlighter alone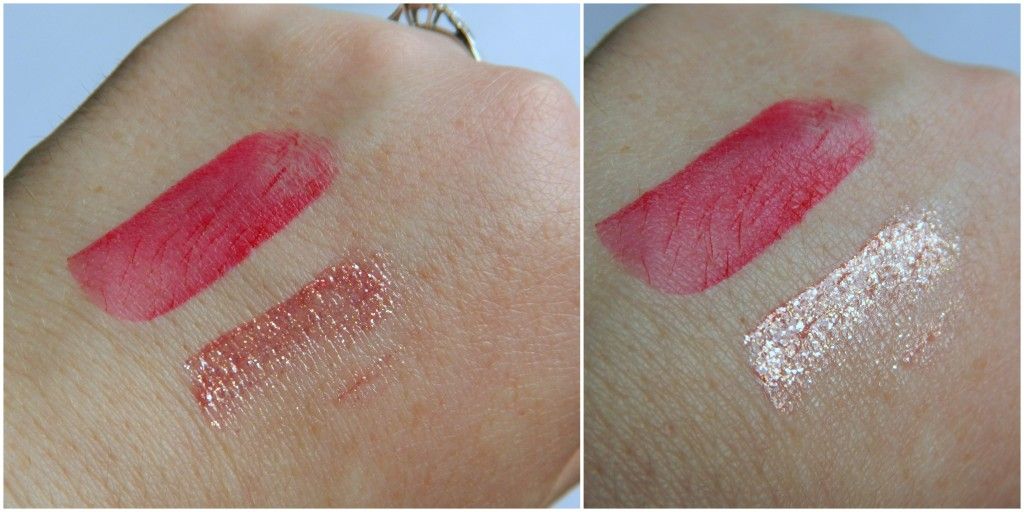 Bring It is a vibrant red colour, it is my favourite of the three that I have tried, I do like a good red lippie and this is no exception.
In my review of Cheeky! I forgot to mention the scent of these, I'm assuming that the whole range has this scent as the three that I have do. Both the lipstick and the highlighter have the most amazing vanilla smell, I really love it but am aware that some people may be put off by this.
The lipstick does stay put a lot longer without the gloss, when they have worn off you are left with glittery lips.
The gloss is quite gritty due to the big chunks of glitter. However, as you can see from the swatches the lipgloss doesn't look too glittery.
I like the packaging, it is really nice and compact and will take up less room than a lipstick and separate lipgloss. The only downside for me packaging wise is the annoying bits of sellotape that they stick on it, these leave behind an annoying stickyness and cheapen the look of the product.
I'm not a huge fan of the product names, I find them a little 'chavy' and I'm not a huge fan of Alexandra Burke. That aside these are great products and little things like that wouldn't put me off.
*PR Sample