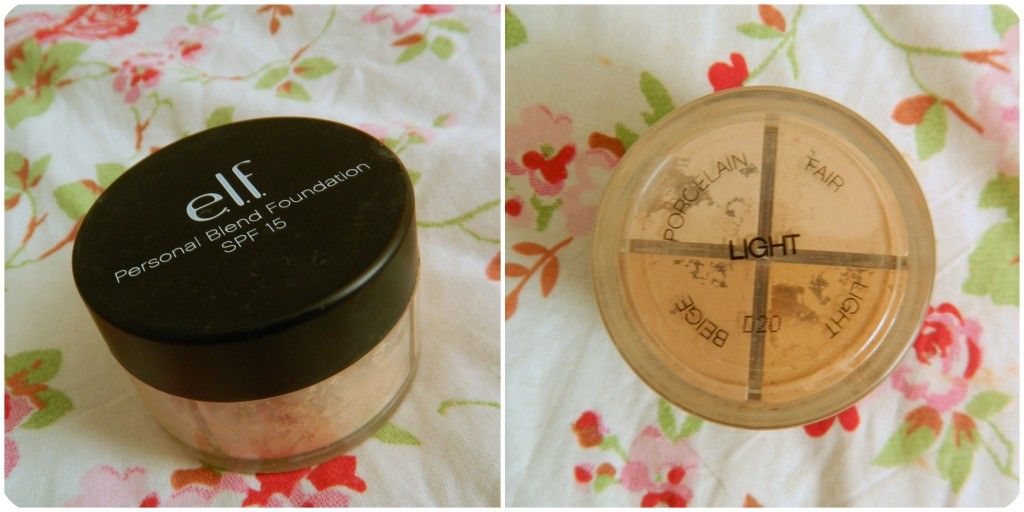 Create customized mineral based color for a perfect match, year-round! Housed in a unique quad chamber for the perfect mix, the weightless mineral formulation blends seamlessly into skin and contains natural skin protecting SPF 15 and is 100% mineral based with no parabens, preservatives or chemical dyes. Infused with key Vitamin E for rich antioxidants that hydrate and replenish the skin. The inner dial allows you to control the amount of product dispensed so you can create your customized color and keep the powder closed for clean and easy use everytime.
I originally purchased this foundation just to make up the cost of my e.l.f. basket so that I qualified for a special offer they were running, I didn't really expect it to be that great but thought it was worth a go as I'd never tried a mineral foundation before. I'm so glad that I did because it has fast become my favourite foundation!
The packaging is clear and simple. There is an inner lid so that you can close the other three colours and just use the one that you desire. I personally prefer the colour of all four blended so have removed this.
As my skin has improved somewhat I no longer require high coverage foundations, I do still have quite a bit of acne scarring on the cheeks, chin and around the nose so do require some coverage. The foundation covers my acne scarring and brightens my skin.
I apply this foundation with my
e.l.f. stipple brush
which does the job perfectly and leaves the skin looking flawless, I've actually had people commenting on how flawless my make-up looks when wearing this.
I've been wearing this foundation everyday to work and it really does last all day. My skin doesn't get as greasy as it used to but it does still get slightly greasy on the cheeks, despite the greasiness this foundation doesn't budge.
As you can see from the swatches you get a great colour selection in one pot which could come in handy for the fake tanners amongst you!