Hello there Leanne's lovelies!
I'm Ella and I have a blog called
Ellaboo Beauty
. The wonderful Leanne has let me do a guest post over here and let me tell you, I was so super excited – her blog is one of the first I ever read, way back when in 2011! I'm going to be sharing my top ten makeup picks under £10.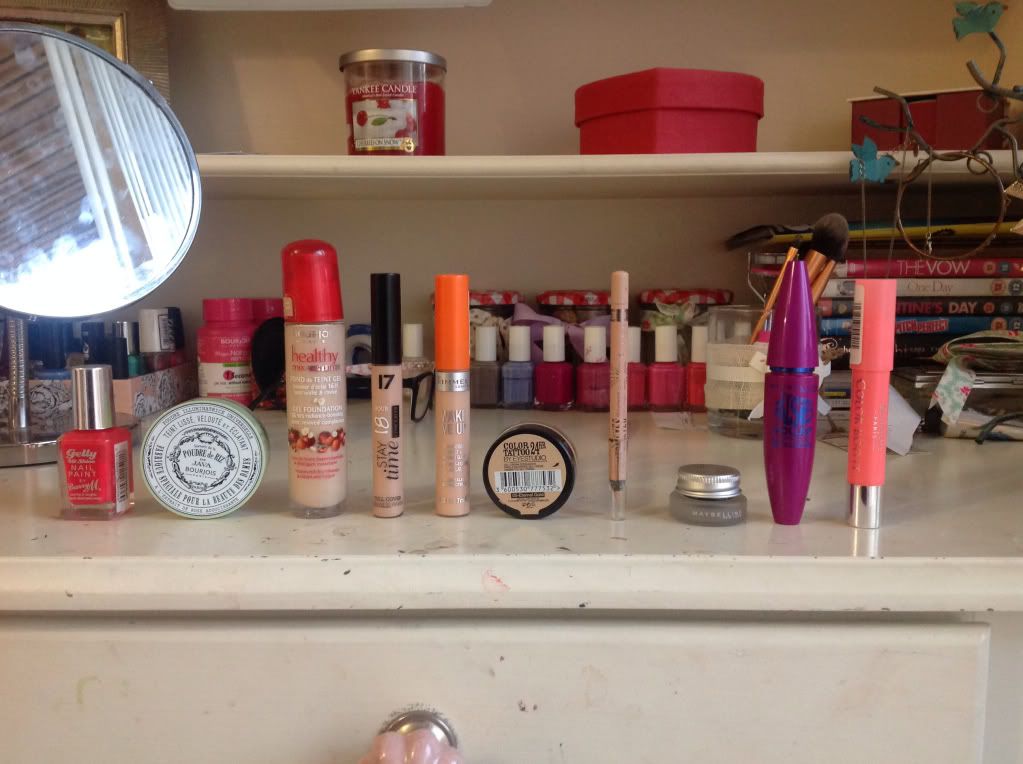 From Left To Right:
Barry M Gelly Nail Paint in Passion Fruit // £3.99 Barry M used to be one of my absolute favourite nail polish brands a couple of years ago, they are super cheap and offer a massive range of colours. However, up until I'd say this summer, they hadn't really wow-ed me with any releases. Until they brought out these gelly nail polishes that is – I now own 11 of the 18 shades and have to say I'm in love! Passion fruit has to be my pick of the bunch, a lovely bright, almost coral-y red that just needs one coat and you're good to go! The whole shade range is lovely, and they dry very glossy.
Bourjois Java Rice Powder // £9.99 When I heard Bourjois have just turned 150, I couldn't believe my ears! They've been churning out little gems this year, from chubby stick dupes to fantastic nail polishes, I think there's something for everyone. I'd deem this slightly shimmery loose powder as the closest dupe you'll really get for the hourglass ambient lighting powders without breaking the bank. It's a really lovely loose powder with nifty packaging that sets makeup with a soft-focus glow and skin like sheen.
Bourjois Healthy Mix Serum // £7.99 down from £11.99 Never mind under £10, this is the bes foundation I've used in ages! A nice sheer coverage that's natural looking and invisible on the skin, this is exactly what I look for in a base (but rarely find without splurging all my pennies!). Although it is sort of dewy, it's more of a skin-like finish so I think it would suit all skin types except very oily.
17 Stay Time Concealer & Rimmel Wake Me Up concealer // £5.49 Because I tend to go for a lighter base, concealer is a must for me to cover up everything I want to hide. The rimmel one is perfect for dark circles as it's very brightening and not drying in the slightest, whereas the 17 one (which I couldn't find online, although I'm certain it's not been discontinued) is wonderful on blemishes as it yields coverage just as good, if not better than, everyone's favourite Collection Lasting Perfection just without the cakiness.
Maybelline Colour Tattoo in Eternal Gold // £4.99 I'm sure you've heard about these nifty little pots of amazingness (unless, of course, your life choices have involved living under rocks) so I won't go on for too long (okay that's what I'm telling myself) but basically these are THE. BEST. cream shadows from the drugstore. Comparable to Mac's paint pots, I think everyone needs at least one in their collection. I have Eternal Gold, Pink Gold, Something Pomegranate and everyone's favourite, On And On Bronze. There is a surprisingly nice colour selection for such an affordable brand, although I do think there are a few things missing!
Rimmel ScandalEyes Kohl Kajal in Nude // £3.99 Everyone loves a creamy kohl pencil that sticks around, and what better than one that you can pick up for the price of your Starbucks? Using a light coloured eyeliner in your waterline brightens the eyes and adds at least an hour to the amount of sleep it looks like you've had. White, however, can look quite stark, so a light peachy beige works best at brightening without frightening. This is the best, and most affordable, one I've tried.
Maybelline Gel Liner // £7.99 If it's good enough for Tanya Burr, it's good enough for me. When I got sick of not being able to get proper flicks done with my usual L'Oreal liquid liner, I thought I'd try a gel. Oh my, I'm never going back! Even if you just use the little brush that's included, you can achieve cat flicks so much more precise than with any pencil or funny nib. The black is blacker than midnight, and it WILL NOT SMUDGE, which is great for the day, but not so great when you start going through your Bioderma twice as fast!
Maybelline The Falsies Waterproof Mascara // £7.99 Another Tanya enabled purchase, another little maybelline gem. This is a really lovely natural looking mascara (I never use more than one coat) with a bristly brush instead of a plastic one, that coats your lashes beautifully and individually leaving you fluttery-eyed. Despite being waterproof, it's actually much easier to remove than my standard Benefit They're real, and it can withstand the most intense of PE lessons, so a great everyday mascara that I will continue to use.
Bourjois Color Boost Lip Crayons // £7.99 Last but by absolutely no means least, the one and only lonely little lip product in this collection! If you know me, you'll know I can't leave the house without at least six different lip balms, four lip glosses and a lipstick rolling around in the bottom of my bag, but I did manage to narrow it down! The bourjois color boost lipsticks actually do what they say they will – a pigmented pop of colour that feels absolutely weightless applied. I couldn't resist buying all
of them!
Thank you so much for reading my post, and big hugs to Leanne for giving me this opportunity! If you've liked what you've read, you can find me
here
(and if you do decide to check out my blog, make sure to stick around as I'll be holding a makeup giveaway soon!).
Ella xox
Thank you so much Ella for your great post, I love a make-up bargain so this is right up my street! So good to hear that you've been following from the beginning 🙂